Our Approach
Cayen Systems' approach to training is simple. We give you everything you need to get up and running immediately. Our trainers undergo a stringent certification process that encompasses client engagement, problem resolution, hands on software use, and effective presentation techniques. Experienced in the very industries we serve, they understand your specific challenges and bring practical, real-world solutions to ensure your running smoothly.

Our Training Specialists can assist you with quick and easy implementation, start up and continual training. Your training session will be customized for your group and offered in multiple formats to accommodate a variety of needs.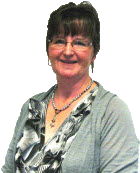 Lynn Russo
Senior Account Manager
Lynn has been a driving force in creating a company-wide standard of customer service excellence. In her role as Senior Account Manager, Lynn utilizes her expertise as a Client Services Specialist and Needs Assessment Analyst. With over 25 years of customer service and relational database management experience, Lynn brings a contagious enthusiasm for achieving client satisfaction and works tirelessly to ensure that the Cayen Systems' clients' experience is positive and effective.